New Publications
Click here to download a flyer of the latest Brecht publications from Bloomsbury, including a 20% discount code for all Brecht titles!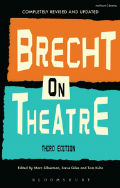 Other relevant and associated publications
Stephen Parker's biography of Brecht has received excellent reviews, amongst others in The Independent, the Literary Review and the Times Literary Supplement. Please click here to view a selection of reviews.
All of these publications are with Bloomsbury Publishing unless otherwise indicated.